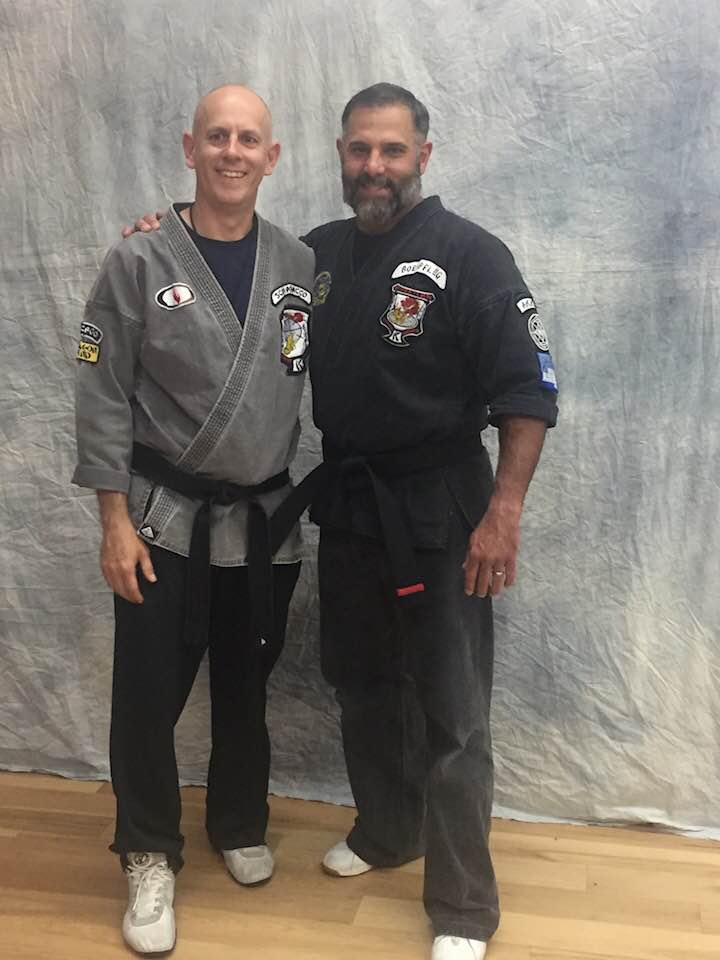 2018 marks the 20th anniversary of Scornavacco Martial Arts Academy's opening in Colorado (Hurray!).
As is natural, I've been reminiscing about the numerous students and families who've come through my door these past two decades…
…then one of them walked right through the front door.
Mike Boespflug began training with me 20 years ago when he was but a teenager.
He steadily and surely made his way up through the ranks, becoming an excellent martial artist and earning his Brown Belt before he went on to join the police force, following in his father's footsteps.
Mike's list of accolades is long: becoming a police sergeant, working undercover, teaching firearms and defensive tactics and working for the Department of Defense AND getting married and having two sons.
Mike is moving on to the next phase of his life, literally moving to Texas, but he had a bit of unfinished business in Longmont first.
He has been teaching his sons and recently they asked him, "Dad, why is your belt still brown (not black)"?
Before he left Mike had been taught all of his material for his 1st Degree Black Belt, all he needed to do was polish his material and take the test.
He told me he wanted to earn his 1st Degree Black Belt before moving to Texas.
So, for the past several months Mike has been laser-focused on bringing his material up to Black Belt quality.
All of his hard work finally paid off when last Friday I awarded Mike his 1st Degree Black Belt, an extra special graduation from a path he began 20 years ago.
After graduation we were talking about Mike's long and winding road when I asked him,"all the time, the obstacles, does any of that matter now that you're a 1st Degree Black Belt," to which he laughed and said, "No, all that matters is that I did it."
Congratulations, Mike! You are everything a Black Belt should be.